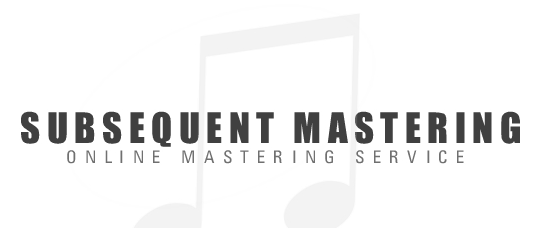 HOME | SERVICES AND PRICES | EQUIPMENT | ABOUT | ARTIST PROFILES | PRESS/TUTORIALS | CONTACT
HOME| SERVICES AND PRICES | EQUIPMENT | ABOUT | ARTIST PROFILES | PRESS/TUTORIALS | CONTACT
LATEST NEWS
Subsequent Mastering in Future Music Magazine (UK)
Subsequent Mastering is featured in this months Future Music Magazine in an article about mastering for independant producers, our engineer Joe provided them with some words of wisdom regarding preparing your mix for a mastering session.
Posted on: Weds 3rd Mar 2010 By: Joe
About
About Subsequent Mastering
Subsequent Mastering was set up in Spring 2009 to fill the gap in the market between top end mastering (expensive) and "DIY" home mastering (low quality threshold).
Our aim is to provide a competitive quality for artist on a smaller budget, although the equipment and services are limited compared to our longer running friends in the industry, no corners are cut in our services.
We believe the relationship between artists and mastering engineers is very important, there is no form to fill in or money up front before corrospondance, we aim to work with the artists.
FREE TRACK OFFER
We want to show you what we can do….
Every artist or label has different needs, and everyone needs can engineer they can trust.
WE WILL MASTER A WHOLE SONG FOR FREE
….(or snippit if you so wish) for first time customers
To find out more:
Email Us
USEFUL LINKS
DELIVERY REQUIREMENTS
WHAT IS MASTERING?
WHAT OUR CLIENTS SAY
"SUBSEQUENT IS OUR GO-TO STUDIO FOR FAST, RELIABLE MASTERING SERVICES. THEIR TURN-AROUND TIME AND SONIC QUALITY RUNS CIRCLES AROUND THE COMPETITION. I AM ALWAYS PLEASED WITH THE CLARITY AND DEPTH OF PROJECTS THAT COME BACK FROM SUBSEQUENT. WORKING WITH THEM CAME UPON RECOMMENDATION AND I PASS THE RECOMMENDATION ON TO ARTISTS AND LABEL HEADS THAT I KNOW."
COSBY,
WWW.CARCRASHSET.COM